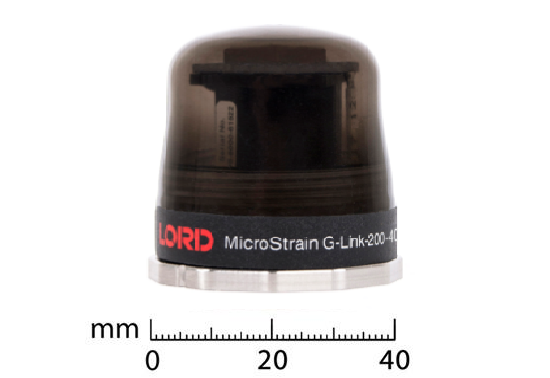 Introduction
LORD Sensing Wireless Sensor Networks enable simultaneous, high-speed sensing and data aggregation from scalable sensor networks. Our wireless sensing systems are ideal for test and measurement, remote monitoring, system performance analysis, and embedded applications.
The G-Link-200-40G has an on-board triaxial accelerometer that allows high-resolution data acquisition with extremely low noise and drift. Additionally, derived vibration parameters allow for long-term monitoring of key performance indicators while maximizing battery life.
Users can easily program nodes for continuous, periodic burst, or event-triggered sampling with the software. The optional web-based SensorCloud interface optimizes data aggregation, analysis, presentation, and alerts for sensor data from remote networks.
Product Highlights
On-board triaxial accelerometer with ±10, ±20, or ±40 g measurement range
Continuous, periodic burst, and event-triggered sampling
Output raw acceleration waveform data or derived vibration parameters (Velocity, Amplitude, Crest Factor)
LXRS protocol allows lossless data collection, scalable networks, and node synchronization of ±50 µs.
1 Sample per hour to 4096 Samples per second
Ruggedized IP-67 rated enclosure
Features & Benefits
High Performance
User-configurable low and high pass filters
Extremely low noise on all axis 80 µg/√Hz
High accuracy temperature sensor ±0.1 °C
Wireless range up to 2 km (800 m typical)
Datalog up to 8 million data points
Ease of Use
End-to-End wireless sensing solution reduces development and deployment time
Remote configuration, acquisition, and display of sensor data with SensorConnect
Optional web-based SensorCloud platform optimizes data storage, viewing, alerts, and analysis.
Easy custom integration with open-source, comprehensive communications and command library (API)
Specifications



Accelerometer Channels
Integrated Sensors
Triaxial MEMS accelerometer, 3 channels
Measurement range
±10 g, ±20 g, or ±40 g - configurable
Accelerometer bandwidth
DC to 1 kHz
Resolution
20-bit
Noise density (±10 g)
80 µg/√Hz
Non-linearity
.1% full-scale
Cross axis sensitivity
1%

Sensitivity change due to temperature

±0.01%/° C
0 g offset (±10 g)
±250 mg
0 g offset vs temperature (±10 g)
±0.5 mg/ °C (typical), ±0.75 mg/ °C (maximum)
Anti-aliasing filter
1.5 kHz (-6 dB attenuation)
Low-pass digital filter
26 to 800 Hz - configurable
High-pass digital filter
Off to 2.5 Hz - configurable
Integrated Temperature Channel
Measurement range
- 40 °C to 85 °C
Accuracy
±0.1 °C (over full range)
Sampling
Sampling modes
Continuous, periodic burst, event triggered
Output options
Acceleration
Derived channels: Velocity (IPSrms),
Amplitude (Grms and Gpk-pk ), and Crest Factor
 
Sampling rates
1 sample/hour to 4096 samples/second
Sample rate stability
±5 ppm
Network capacity
Up to 128 nodes per RF channel depending on number of active channels and sampling settings. See bandwidth calculator: http://www.microstrain.com/configure-your-system
Synchronization between nodes
±50 µsec
Data storage capacity
16 M Bytes (up to 8,000,000 data points)
Operating Parameters
Wireless communication range
Outdoor/line-of-sight: 2 km (ideal)*, 800 m (typical)**, Indoor/obstructions: 50 m (typical)**
Radio
License-free 2.4 GHz, 14 channels (IEEE 802.15.4)
Radio Power
0 dBm to 20 dBm; limited to 10 dBm outside of USA
Power source
3 x 3.6 V, ½  AA batteries (Saft LS 14250 recommended)
Battery input range
0.8 V to 5.5 V
Operating temperature
-40 °C to +85 °C
Physical Specifications
Dimensions
46.6 mm x 43 mm x 44 mm
Mounting
¼ - 28 UNF - 2B 4.8 mm [.19 in] DP.
Weight
Node with 3 batteries: 122 grams
Environmental rating
IP67
Enclosure material
300 series stainless steel bottom plate, polycarbonate cover
Integration
Compatible gateways
All WSDA base stations and gateways
Software
SensorCloud, SensorConnect, WSDA-101 Data Downloader, Live Connect, Windows Vista/7 compatible
Software development kit (SDK)
Data communications protocol available with EEPROM maps and sample code (OS and computing platform independent) http://www.microstrain.com/software/mscl
*Measured with antennas elevated, no obstructions, and no RF interferers.
**Actual range varies with conditions such as obstructions, RF interference, antenna height & orientation.
Product Taxonomy
Parameters
Applications
Vibration monitoring
Condition based maintenance (CBM)
Impact and event monitoring
Health monitoring of rotating components, aircraft, structures, and vehicles
Discontiuned
Documentation
General Documentation
Technical Notes
Highlighted Docs
Summary
G-Link®-200-40G - ruggedized high-speed triaxial accelerometer node with ± 10, ± 20, or ± 40 g measurement range
Price
$0.00