For your convenience: Pressure Conversion Table
By Collin
/
Published Mon, 02/27/2017 - 11:08

With all the various ways to measure and calculate pressure, it can sometimes be a little daunting to convert one unit to another. How do you go from bar to psi, for example? Or pounds per square foot to dynes per square centimeter?
We are happy to provide a comprehensive pressure conversion table for your convenience, giving you virtually every possible measure and conversion you could need. Simply find your 'from' unit on the x-axis (top row), and then meet up with the 'to' unit on the y-axis (side row).
The table also includes linear measure conversions and temperature, too, so you now have a one-stop table for your conversion needs.
Make sure you print in out for easy reference; it is available online here.
(By the way, if you're going from bar to psi, you multiply by 14.504)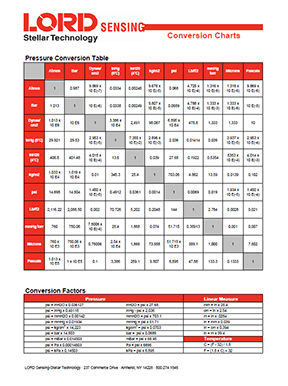 Thanks for subscribing!
SIGN UP
Get updated when new All Blogs Blog articles are posted.