See you at Heli-Expo next week!
By Collin
/
Published Fri, 03/03/2017 - 14:08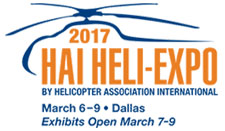 The 2017 edition of HAI HELI-EXPO kicks off next week in Dallas, and we're looking forward to seeing you!
Stop by Booth #2817 to meet with our sales manager Tom Smith as he displays many of our latest sensing technologies, including the brand new V-Link-200 wireless 8-channel analog input sensor node.
HELI-EXPO is one of the leading global gatherings for the helicopter industry, featuring more than 700 exhibitors. More than 60 aircraft will be on display throughout the event, and special helicopter "fly-in" events occur March 3-4 and "fly-out" March 9-10.
The Expo takes place at the Kay Bailey Hutchison Convention Center in downtown Dallas:
Tuesday, March 7: 10:00 a.m. - 5:30 p.m.
Wednesday, March 8: 10:00 a.m. - 5:00 p.m.
Thursday, March 9: 10:00 a.m. - 4:00 p.m.
 
Thanks for subscribing!
SIGN UP
Get updated when new All Blogs Blog articles are posted.