The Drive for Reliable Data: Using Real-World Inputs to Test MicroStrain Inertial Sensors
By Anonymous
/
Published Tue, 02/04/2020 - 17:19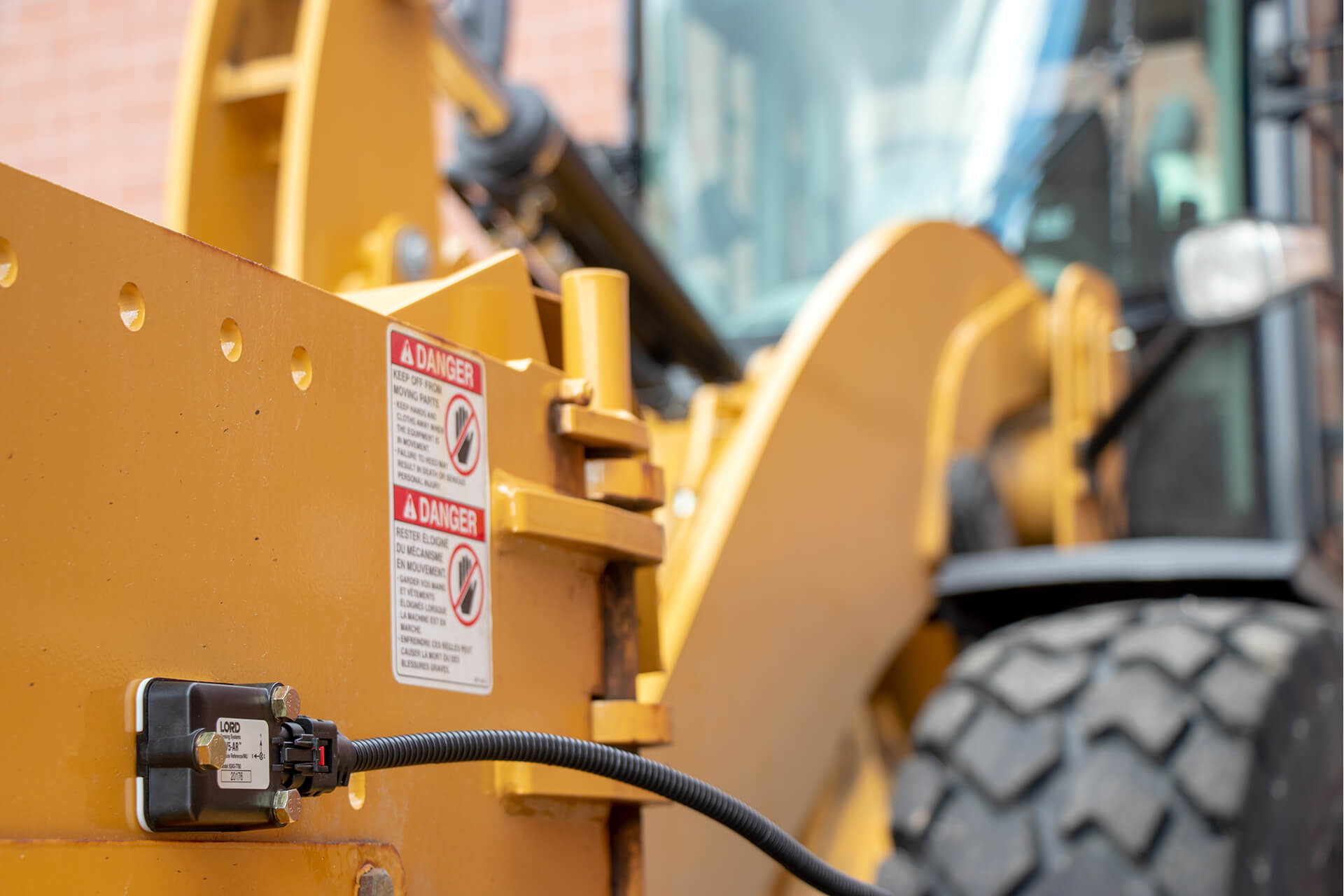 Inertial measurement units (IMUs) are essential tools for manufacturers of off-road heavy-duty vehicles and machinery. They provide critical information that is used to control, monitor and manage the equipment, but also to ensure operator safety during use.
Contact Us
Often, both the equipment and the operators are subjected to harsh, unpredictable environments, leaving them vulnerable to damage, or worse, injury. Designed to measure and provide real-time data on force, angular rate and orientation, the sensors are the first line of defense for both the equipment and their operators.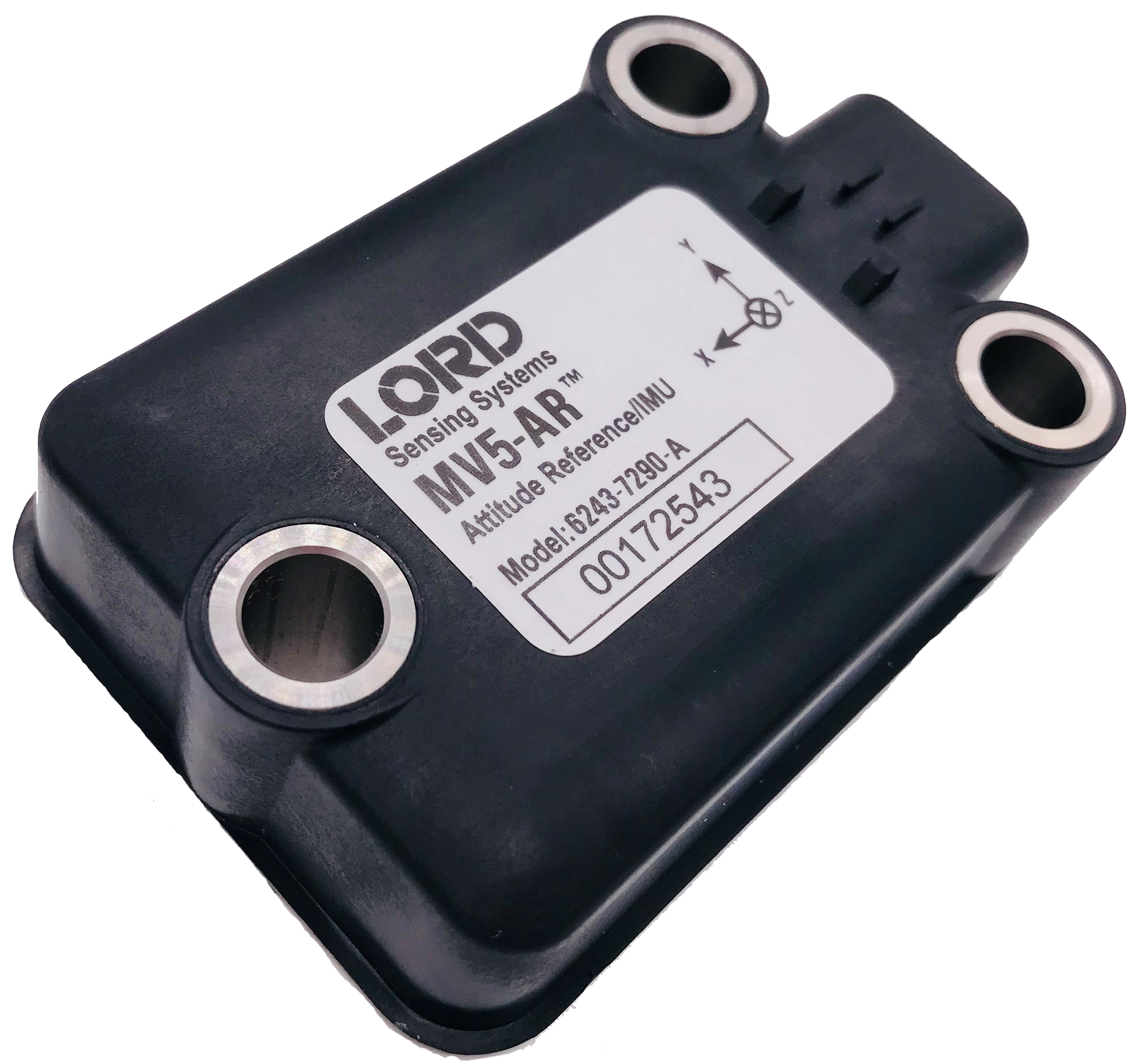 MicroStrain MV5-AR Inertial sensor
Testing IMUs in real-world environments will result in sensors that can handle real-world scenarios. That's what our MicroStrain team did with the MV5-AR and ML5-AR industrial tilt and angular rate sensors. Using real-world environments and conditions, the team was able to gain an accurate reading that helped validate the performance of their devices, setting them apart from that of competitors.
As part of our testing criteria, we have more than 56 third-party qualified standards which include electrical, mechanical, vibration and environmental standards. We've recorded both vibration and environmental data from real-world machines and equipment and worked to simulate those conditions in our test environment in a repeatable way. This is done to make sure the IMU sensors are designed to meet the very specific challenging conditions experienced on the job.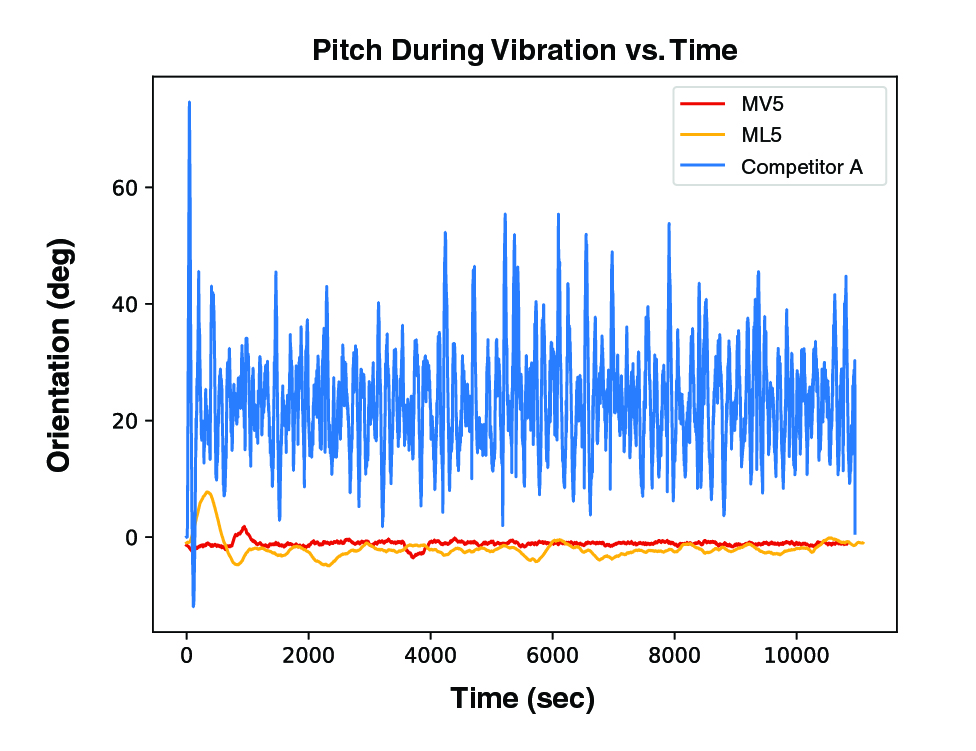 Testing MicroStrain inertial sensors against a competitor sensor, the chart shows the sensors being subjected to a random vibration profile of approximately 8G RMS. The ML5 and MV5 are orders of magnitude more stable than competitors when used in real-world environment that includes vibration.
As a result, MicroStrain sensors perform better when put toe-to-toe in comparative tests with other sensors. In the first test, a high-vibration test, three sensors—MV5-AR, ML5-AR, and that of a competitor—were subjected to a known input vibration, which was collected through real-world field data. The team did this to introduce real-world occurrences during the testing phase while recording angular measurements. A perfect sensor would have an angular measurement reading of 0 degrees. Although none of the sensors showed a reading of zero, the two MicroStrain sensors were near zero, while the competitor's showed a reading of 20 degrees. The competitor's sensor was indicating rotation on the axis with no physical movement, resulting in inaccurate reading.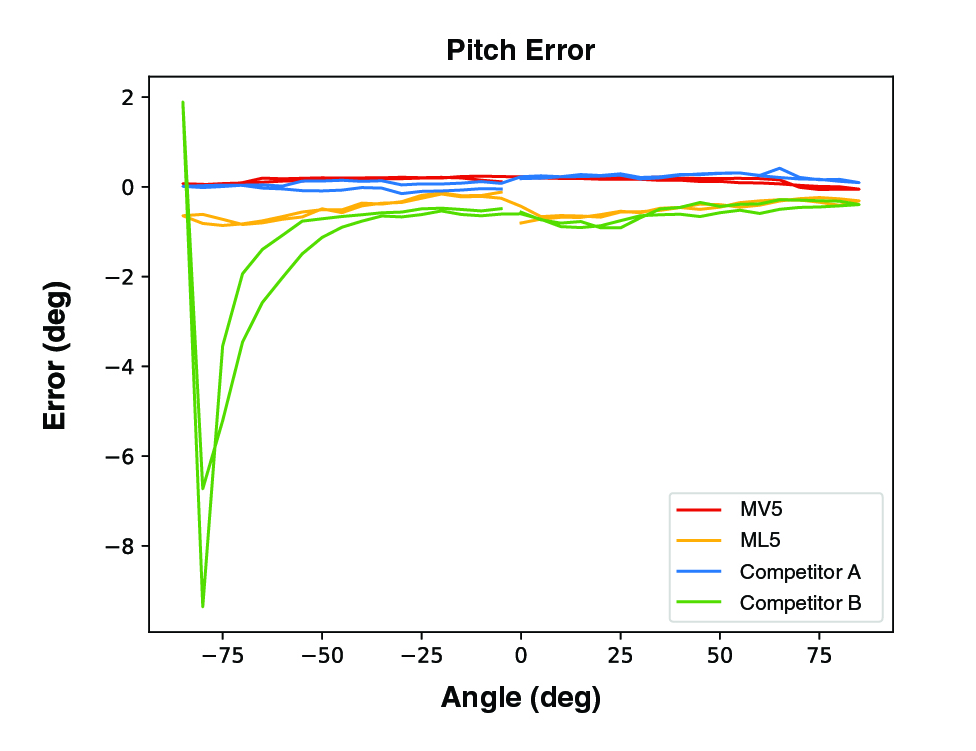 Testing MicroStrain inertial sensors against two competitor sensors, the chart shows the sensors being rotated +/-90 degrees in pitch. The MV5 and ML5 performed several orders of magnitude better than some of the competitors.
In the second test, the pitch error test, the team compared four sensors—MV5-AR, ML5-AR and two competitors' sensors. All devices were rotated through the usable measurement range with the goal of showing a minimal difference in reported angle for similar angle readings. An ideal sensor would have no error throughout this range, but the team saw significant errors on both competitors' sensors, while the MV5 and ML5 showed minimal errors.
The results are crystal clear: testing in a real-world environment sets the Parker MicroStrain sensors apart and the ideal choice for OEMs look to protect their equipment and their operators.
Related Content
Thanks for subscribing!
SIGN UP
Get updated when new All Blogs Blog articles are posted.