VPG Sensors compatibility with MicroStrain
By Elena
/
Published Wed, 04/14/2021 - 10:40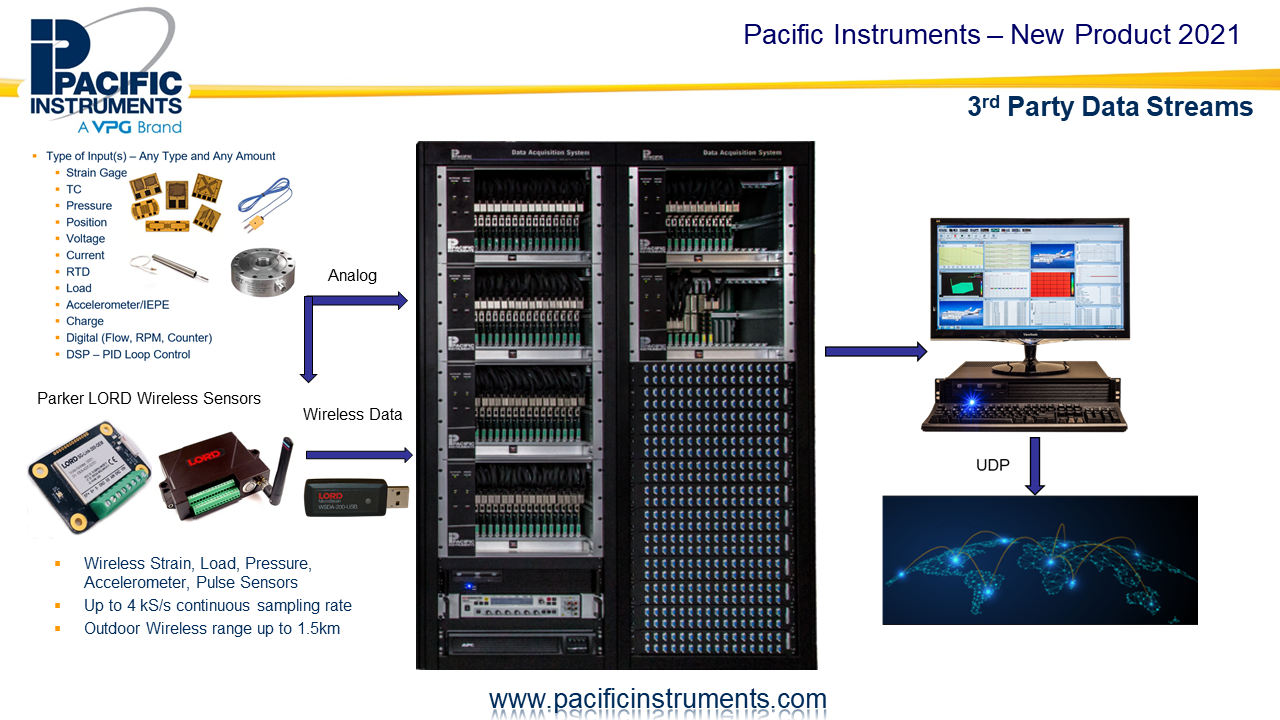 An innovative and fully integrated modular transducer conditioning, acquisition and control system, the Pacific Instruments Series 6000 signal conditioning, data acquisition and control system has unparalleled performance and accuracy. From two to many thousands of channels, high & low speed, analog & digital, Series 6000 acquires measurement data from virtually all types of sensors and is fully customizable to fit the needs of any test facility. Large & small, AC & DC powered enclosures are available for nearly any test environment. Analog and digital I/O modules condition, amplify, filter and digitize signals from transducers. Turnkey and/or API software is provided to help facilities get up and running quickly.
In addition to any type of Analog Sensor input the Pacific Instruments Series 6000 Data Acquisition System also has the ability to input Parker LORD Microstrain Wireless Strain/Analog V-Link-200, Embeddable Wireless Strain/Analog SG-Link-200 Sensor Node in conjunction with the Parker LORD WSDA-200-USB Wireless USB Gateway. The Parker LORD WSDA-200-USB Wireless USB Gateway plugs into a Windows based PC and Pacific Instruments PI660 Software package captures both the Parker LORD Microstrain Wireless Sensor data stream and the Pacific Instruments Series 6000 Data Acquisition data stream so channel data from both can be displayed, recorded and broadcast together resulting in an extremely powerful yet turnkey solution.
Read More
About Vishay Precision Group, Inc. (VPG)
Featured products
Contact Microstrain today to learn more about its wireless products.
Thanks for subscribing!
SIGN UP
Get updated when new All Blogs Blog articles are posted.