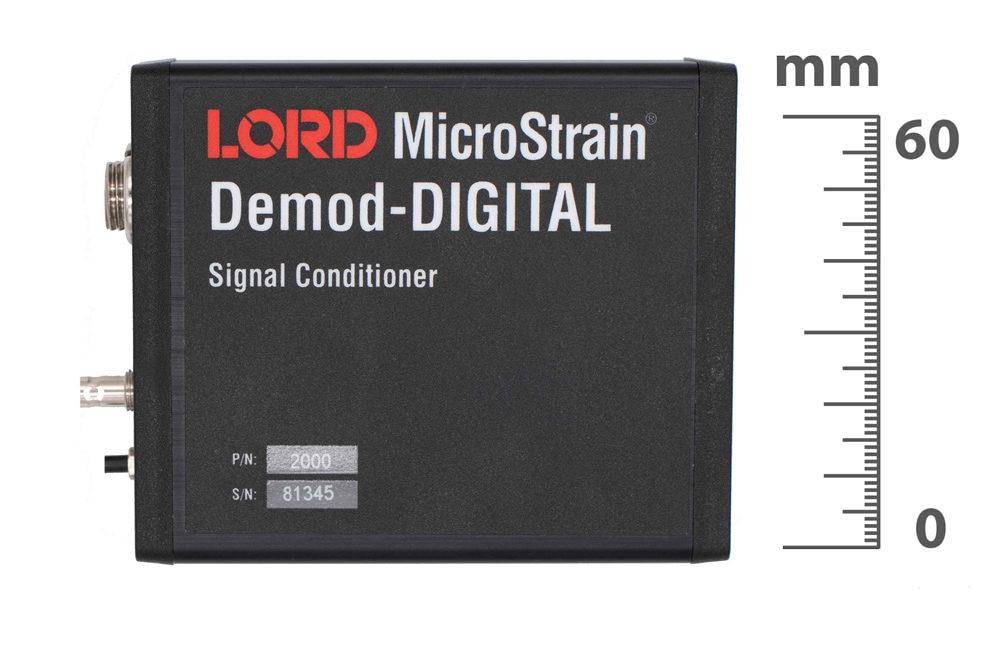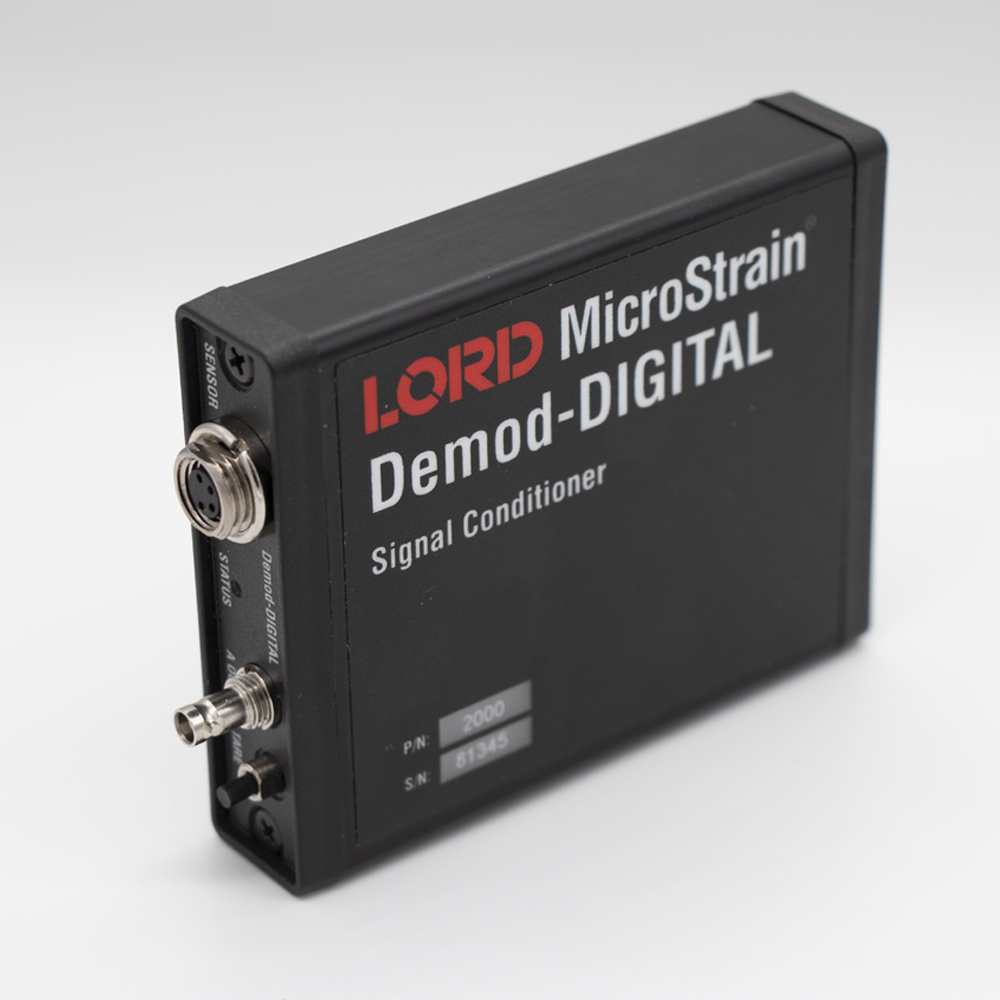 Title 2
Displacement Signal Conditioner
Product Status
Discontinued
Introduction
MicroStrain Linear Variable Differential Transducer (LVDT) systems enable precise micro-position measurement for a variety of applications. Each system includes a sensor, cable, and signal conditioning module calibrated as one unit to ensure accurate, repeatable measurement.
The Demod-DIGITAL stores specific calibration values in an internal lookup table and provides a highly accurate displacement output on both digital serial and analog output channels.
NOTE: Designed for use with MicroStrain LVDT sensors. With a Demod-DIGITAL purchase, current customers may return sensors for calibration free of charge.
Product Highlights
Internal calibration data delivers unmatched accuracy
Digital serial and analog outputs
Up to 50X more accurate than other LORD signal conditioners
Clean, high-level signals to output connections
Features & Benefits
High Performance
Precision synchronous demodulation
Calibrated with each sensor for high accuracy outputs
Line voltage transient filtering and pure sine wave excitation source to the sensor bridge
Ease of Use
No conversion needed for digital output.
Compatible with LORD Sensing SensorConnect™ software
Factory-set output filtering and calibration-model options
Rapid warm-up time
Complete solution - no other system integration required
APPLICATIONS
Linear and angular position measurements
Strain, deflection and deformation measurements
Dimensional gauging
Specifications
Signal Conditioner
Sensor Types: Parker LORD inductive LVDT (formerly DVRT®) sensors
Sensor Input Channel

Excitation: AC sinewave, 140 kHz typical (other frequencies available on request)
Demodulation: Synchronous, DC output

Analog Output

Analog Output Voltage: 0 to 10VDC (standard), 0 to 5VDC (optional)
Gain: Adjustable from 14 to 10,000 (factory set during calibration)
Low-Pass Filter: 2 Pole, 3dB down @ 10Hz

Digital Output

Format: RS232 (RS485 upon request)
Data: Timestamp, Displacement (mm)
Operation
Power Source: 12VDC nominal ±1VDC (universal voltage wall AC/DC converter provided)
Power Consumption: 70 mA typical
Power Indicator: Multi-color status indicator
Supply Current: 22 mA typical (~15 mA when modified for use with V-Link-200 wireless node)
Warm-Up Time: 5 minutes recommended
Package
Operating Tempurature: -20 to +60°C
Enclosure Size: 70mm x 96mm x 20mm
Mounting: Desktop with rubber feet
Connectors:

Center-positive DC barrel socket (power supply)
4-pin M8 receptacle (sensor input)
HDBNC (analog output)
Micro-DB9

Sensor Cable: 4-pin receptacle to 4-pin mini, calibrated with sensor and signal conditioner
Weight: 113g
Applications
Linear and angular position measurements
Strain, deflection and deformation measurements
Dimensional gauging
Discontinued
Product no longer stocked – limited availability
Contact for pricing and lead time--a minimum order quantity may apply
Documentation
General Documentation
Technical Notes
Highlighted Docs
There are no downloads for this product at this time.
Summary
LORD Sensing Differential Variable Reluctance Transducer (LVDT®) systems enable precise micro-position measurement for a wide variety of applications. From slow, slight movements over time to high frequency vibration, the LVDT system provides accurate, re