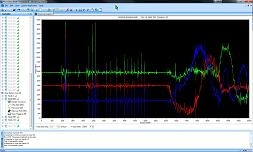 Introduction
Node Commander® is a fully featured, easy to use software which operates MicroStrain's LXRS™ and legacy wireless nodes and base stations. The software provides for configuration of the individual wireless nodes, configuration of the base stations, operation of Synchronized Sampling (both Continuous and Burst modes), Armed Datalogging, Datalogging, Streaming and Low Duty Cycle data acquisition sessions, real time display of data, and writing to file. The software also provides intuitive 'wizards' that allows the user to set-up any sensor attached to the wireless nodes including strain gauges, displacement sensors, load cells, torque transducers, pressure sensors, accelerometers, geophones, temperature sensors, inclinometers and more.
The software can discover any wireless nodes within range, set the nodes and base stations to operate on separate frequencies, acquire data from multiple nodes and multiple base stations all at the same time, manage the nodes' batteries including sleep, wake and cycle power, and upgrade the nodes' firmware.
The Live Connect software, included in the Node Commander installation, makes a WSDA-1000 act as a standard base station within the Node Commander software. WSDA-1000 users can remotely access and manipulate their wireless node settings, change sample rates, adjust sample modes, and start the nodes sampling.
Node Commander® produces data files which are easily imported into any data analysis program. All data files are fully internationalized with regional date-time stamping, and language specific data separators and numeric decimators. All data is saved in the particular sensor's engineering units.
Each wireless starter kit comes with Node Commander® software on CD for installation on Microsoft Windows® XP Pro, Vista, and 7, both 32-bit and 64-bit operating systems. **The Node Commander Installer now includes an option for the Live Connect installer for WSDA-1000 users.
Features & Benefits
Fully featured software ready to run
Windows XP, Vista and 7, 32/64 bit compatible
Operates mXRS™ and legacy wireless nodes and base stations
Runs multiple wireless nodes and multiple base stations at same time
Internationalized data files
Allows user to fully exploit all wireless sensing system functions
Provides for node and base station firmware upgrades
Ships with every starter kit
Specifications
Software Name
Node Commander®
Operating Systems
Microsoft Windows® XP Pro, Vista and 7 32/64-bit
For Use With
Current products:
SG-Link® -mXRS™ Wireless Strain Node
G-Link® -mXRS™ Wireless Accelerometer Node
DVRT-Link™ -mXRS™ Wireless Displacement Node
SG-Link® -OEM-S Wireless Strain Node
V-Link® Wireless Voltage Node
EH-Link™ Energy Harvesting Wireless Node
HS-Link™ 100KHz High Speed Wireless Node
TC-Link® 6 Channel Wireless Thermocouple Node
TC-Link® 1 Channel Wireless Thermocouple Node
TC-Link® OEM Channel Wireless Thermocouple Node
WSDA® -Base Base Station

Legacy products:
SG-Link® Wireless Strain Node
G-Link® Wireless Accelerometer Node
DVRT-Link™ Wireless Displacement Node
SG-Link® -OEM Wireless Strain Node
USB Base Station
Serial Base Station
Analog Base Station
Discontinued
Product no longer stocked – limited availability
Contact for pricing and lead time--a minimum order quantity may apply
Documentation
General Documentation
Videos
FAQ's
Summary
Node Commander® is a fully featured, easy to use software which operates MicroStrain's LXRS™ and legacy wireless nodes and base stations. The software provides for configuration of the individual wireless nodes, configuration of the base stations, operati