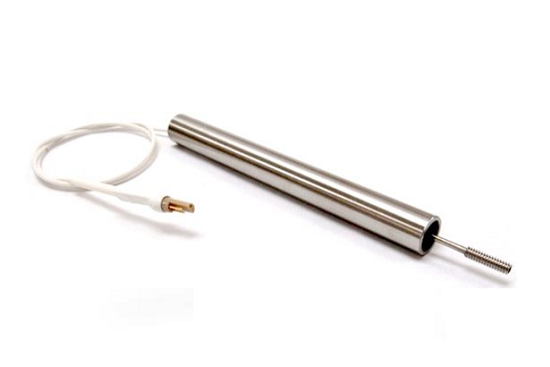 Ideal for linear control and precision measurement applications, the miniature LS-LVDT provides fast response and rugged packaging. Configuration options can provide 0.04% full-scale resolution, linear output, flat dynamic response to kHz levels, and very low-temperature coefficients. Its free sliding transducer core is lightweight, strong, and corrosion-resistant. The cores are precision ground to insure a close sliding fit within the open bore of the stainless steel lined LS-LVDT body. This precision allows the LS-LVDT to achieve extremely high repeatability. The sensing head is capable of total submersion in aqueous environments. NOTE: This sensor is designed for use with LORD Sensing DEMOD signal conditioners.
50 mm, 100 mm, and 150 mm stroke lengths available
Extremely compact packaging with sensor body only 25 mm longer than the stroke length
Unguided armature
For use with standard

LORD

DEMOD signal conditioners.
±2% to ±0.2% accuracy
Datasheet
High Performance
High-resolution with large stroke/size ratio
Frictionless design for robust use over millions of cycles
Designed to withstand harsh environments
High dynamic range for difficult measurements
General

Linear stroke lengths

±25 mm, ±50 mm, ±75 mm

Accuracy
@25°

±1% Peak (typical)
(±2% max) with straight line
0.2% RMS with multi-segment
0.1% RMS with polynomial


Frequency response

800 Hz standard, 10Hz – 20kHz optional

Temperature coefficients

Offset 0.002%/° C typical, Span 0.04%/° C typical


Housing material
316 Stainless steel
Core material
316 stainless steel shell with ferrous core
Cable material
Teflon coated
Electrical connector
4 Pin PEEK LEMO connector
Temperature range
-55 - 150°C
Resolution (800 Hz LPF)
0.2% FS typical
0.04% FS typical

Sensitivity

0-5 VDC FS

0-10 VDC FS
Please use the form below to contact us or call 802 862 6629.