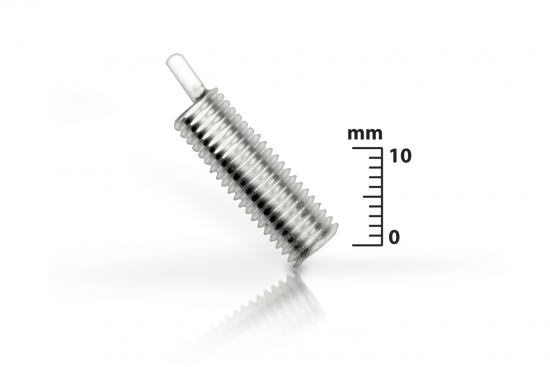 Ideal for difficult sensing applications, the Non-Contact LVDT is designed to measure the displacement and proximity of a metal target without physical contact. The measurement is unaffected by interposed nonmetallic, non-conductive materials, such as polymers and biomaterials. The stainless shell of the device houses two coils; one for sensing and the other for temperature compensation. The coils and Teflon® cable are mounted on a stable PEEK substrate. This assembly is potted into the stainless housing using high-grade, vacuum-pumped epoxy and includes integral strain relief. This packaging allows the sensor to be used in applications requiring long-term immersion in water and saline solutions.
Datasheet
High Performance
Sub-micron resolution with large stroke/size ratio
High dynamic range for difficult measurements
Ease of Use
Non-contact position measurement
Plug and play usability
Easily customized to suit specific requirements
Signal conditioning options for any application
Linear stroke lengths
1.0 mm
2.5 mm
Accuracy
@25°
±0.2 to ±1% with polynomial calibration
Sensitivity
DEMOD output/sensor range
Signal to noise
standard - 1000 to 1with filter 3dB down at 800 Hz
Resolution
dependent upon displacement area
Frequency response
800 Hz standard, 20 KHz optional
Temperature coefficient
offset 0.0039%/°C (typical)
span 0.016%/°C (typical)
dependent on target material
Mechanical Specifications
Size

NC-DVRT®-1.0
NC-DVRT®-2.5
diameter x length (thread)

3.8 mm x 19.0 mm (10-32 UNF-2A )
10.7 mm x 19.0 mm (½-20 UNF 2A)
Housing material
300 series stainless steel
Attachment method
threaded stainless nuts
Leadouts
45 cm, shielded, teflon insulated, stainless wire reinforced, multistrand conductors
Connector
keyed 4-pin Lemo, polyolefin relief
Operating
temperature
-55 to 175°C
Cable diameter
0.036 " to 0.070 "
Contact us for information on custom designs suitable for immersion, corrosive and high pressure environments.
There are no downloads for this product.
Please use the form below to contact us or call 802 862 6629.