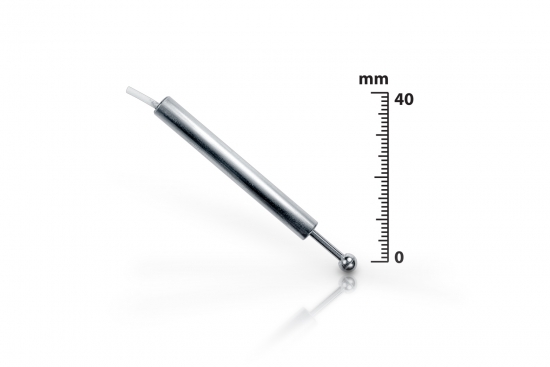 Designed specifically for tight spaces, the Subminiature Gauging LVDT delivers high performance in a small package. A sapphire bearing and hardened stainless steel spring-stop guide the tip, providing an exceptionally smooth static and dynamic response and resistance to side load. The Subminiature Gauging LVDT feature sub-micron resolution, linear analog output, flat dynamic response to kHz levels, and very low temperature coefficients. Extremely lightweight, captive cores are small and rugged. Manufactured using corrosion-resistant alloys, Subminiature Gauging LVDT are suitable for short term submersion in harsh media such as brake fluid and hot saline.
Datasheet
High Performance
Micron resolution with large stroke/size ratio
Gauging pin enables measurement on moving parts
Frictionless design for robust use over millions of cycles
Suitable for use in harsh fluids and environments
Ease of Use
Plug and play usability
Easily customized to suit specific requirements
Signal conditioning options for any application
Electrical Specifications

Linear Stroke Length
4, 8, 24, 38 mm (standard resolution)
6 mm (high resolution)
500 µm or less (nano resolution)
Accuracy
@25°
±1% Peak (typical)
(±2% max) with straight line
0.2% RMS with multi-segment
0.1% RMS with polynomial
Sensitivity
DEMOD output/sensor range
Signal to noise
4200 to 1 (with filter 3 dB down at 800 Hz, standard resolution), 466 to 1 (unfiltered)
Resolution
1.0 µm for 4 mm stroke
2.0 µm for 8 mm stroke
6.0 µm for 24 mm stroke
9.5 µm for 38 mm stroke
0.6 µm for high resolution version
125 nm for nano resolution version (up to 10 nm resolution is possible with customized sensor range and electronics)
Frequency response
800 Hz standard, 20 KHz optional
Temperature coefficient
offset 0.002% /°C (typical) span 0.030% /°C (typical)
Hysteresis
± 1 micron
Repeatability
± 1 micron
Mechanical Specifications
Overall body length
30.5 mm for 4 mm stroke
50.5 mm for 8 mm stroke
127 mm for 24 mm stroke
183 mm for 38 mm stroke
50.5 mm for high res version
50.5 mm for nano version
Outside diameter
6.0 mm (smooth body) 8.0 mm for 38 mm stroke
Spring stiffness
0.2 N/mm (1 lb/in)
Bearing material
sapphire and stainless steel
Standard core tip
4.76 mm stainless steel ball
Housing material

400 stainless steel smooth body;

400 stainless steel 3/8-24 UNF thread (38 mm stroke has 7/16-20 UNF thread);

400 stainless steel M10x1.5-6g metric thread (38mm stroke has M11x1.5-6g metric thread)

Attachment method
threaded body
Leadouts
45 cm multistrand, shielded, stainless steel reinforced teflon insulated cable
Connector
keyed 4 pin Lemo, polyolefin relief
Operating temperature
-55 to 175°C
Core material
stainless steel
Cable diameter
0.070 "
Contact us for information on custom designs suitable for immersion, corrosive and high pressure environments.
Please use the form below to contact us or call 802 862 6629.