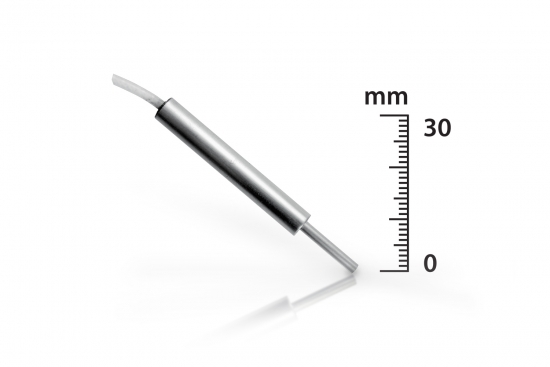 Ideal for linear control and precision measurement applications, the Subminiature LVDT provides fast response and rugged packaging. The Subminiature LVDT features micron resolution, linear analog output, flat dynamic response to kHz levels, and very low temperature coefficients. Its free sliding transducer core is lightweight, strong, and corrosion resistant. Cores are precision ground to insure a close sliding fit within the open bore of the stainless-steel lined LVDT body. This precision allows the LVDT to achieve extremely high repeatability. The sensing head is capable of total submersion in aqueous environments.
Datasheet
High Performance
Sub-micron resolution with large stroke/size ratio
Frictionless design for robust use over millions of cycles
Suitable for use in harsh fluids and environments
High dynamic range for difficult measurements
Ease of Use
Plug and play usability
Easily customized to suit specific requirements
Signal conditioning options for any application
Electrical Specifications

Linear Stroke Lengths
±2, ±4, ±12, ±19 mm (standard)
±3 mm (high resolution)
±0.25 (nano resolution)
Accuracy
@25°
±1% Peak (typical)
(±2% max) with straight line
0.2% RMS with multi-segment
0.1% RMS with polynomial
Sensitivity
DEMOD® output / sensor range
Signal to noise
4200 to 1 (with filter 3 dB down at 800 Hz, standard resolution), 466 to 1 (unfiltered)
Resolution
1.0 µm for 4 mm stroke
2.0 µm for 8 mm stroke
6.0 µm for 24 mm stroke
9.5 µm for 38 mm stroke
0.6 µm for high resolution version
125 nm for nano resolution version (up to 10 nm resolution is possible with customized sensor range and electronics)
Frequency response
800 Hz standard, 20 KHz optional
Temperature coefficient
offset 0.002% /°C (typical) span 0.030% /°C (typical)
Mechanical Specifications
Overall body length
18.5 mm for 4 mm stroke
34.5 mm for 8 mm stroke
81 mm for 24 mm stroke
110 mm for 38 mm stroke
34.5 mm for high res version
34.5 mm for nano version
Outside diameter
4.76 mm (3/16 inch)
Housing material

300 stainless steel, smooth;
5/16 - 24 UNF threaded 400 stainless steel (optional);

M8x1.25-6g threaded 400 stainless steel (optional)
Attachment method
optional: magnetic mounting block, threaded body, clamping collar
Leadouts
45 cm multistrand, shielded, stainless steel reinforced teflon insulated cable
Connector
keyed 4 pin Lemo, polyolefin relief
Operating temperature
-55 to 175°C
Core weight
500 µm: 0.4 g, 4 mm: 0.4 g, 6 mm: 0.4 g, 8 mm: 0.4 g, 24 mm: 1.62 g, 38 mm: 1.67 g
Core material
stainless steel
Cable diameter
0.070 "
Contact us for information on custom designs suitable for immersion, corrosive and high pressure environments.
There are no downloads for this product.
Please use the form below to contact us or call 802 862 6629.