Applications
Downloads
Tags
Parameters
Related Products
By LORD MicroStrain
Posted

Friday, July 24, 2015 - 15:45
Optimize communication, data analysis, and battery life with a Wireless Network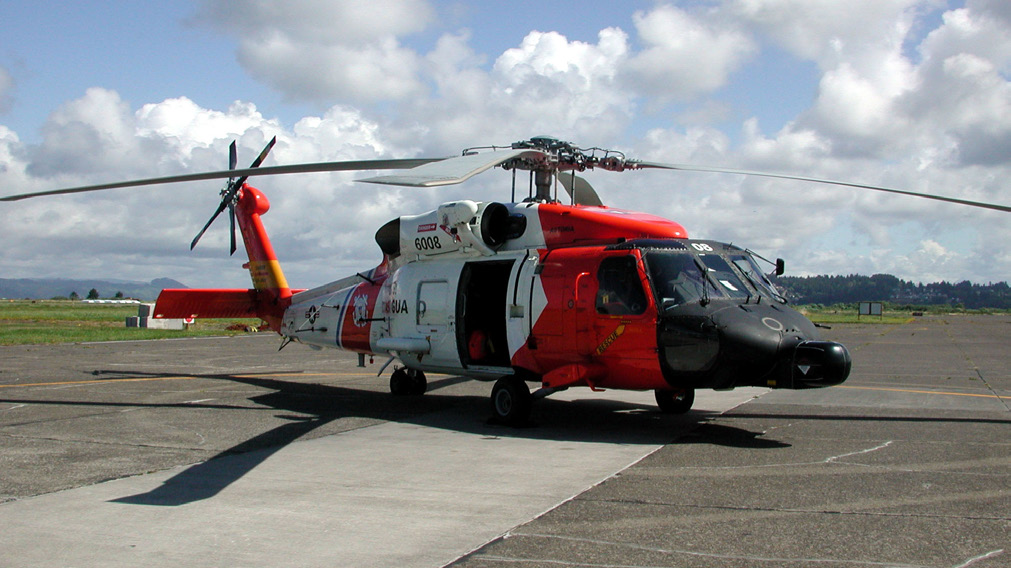 Drawbacks of hardwired HUMS:
Using a hardwired health and usage management system (HUMS) often proves impractical; the user is hampered by installation expense, cumbersome data collection processes, and hardware which is not suited for rotating parts; the required slip rings are often expensive and heavy, and they limit the number of sensors which can be installed.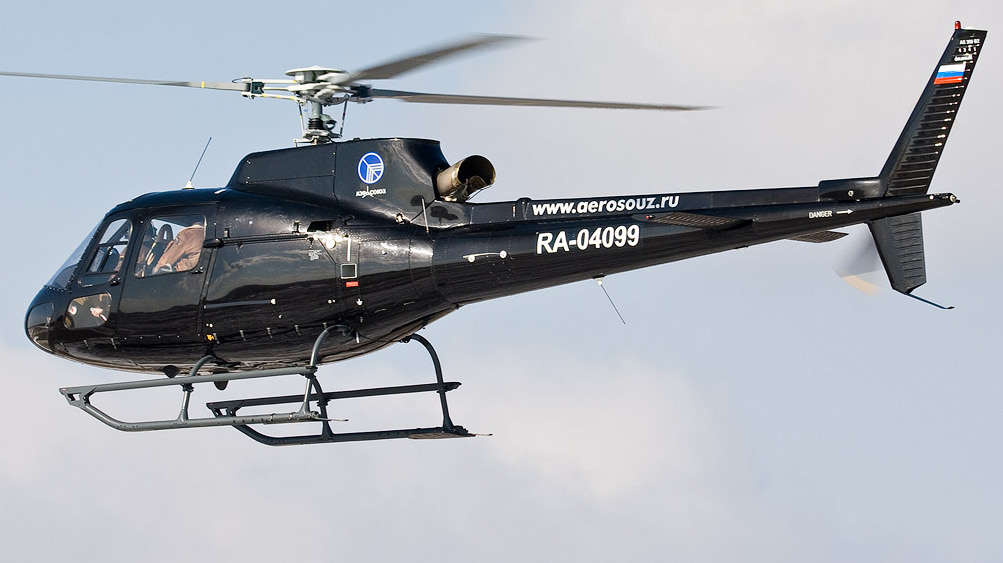 LORD Microstrain Wireless Networks:
Enable bi-directional communication with a HUMS
Reduce installation limitations
Allow for collection of a broader data set
Can be set to sample only via event triggers and/or during specific flight regimes
Enable data collection and storage in a centralized location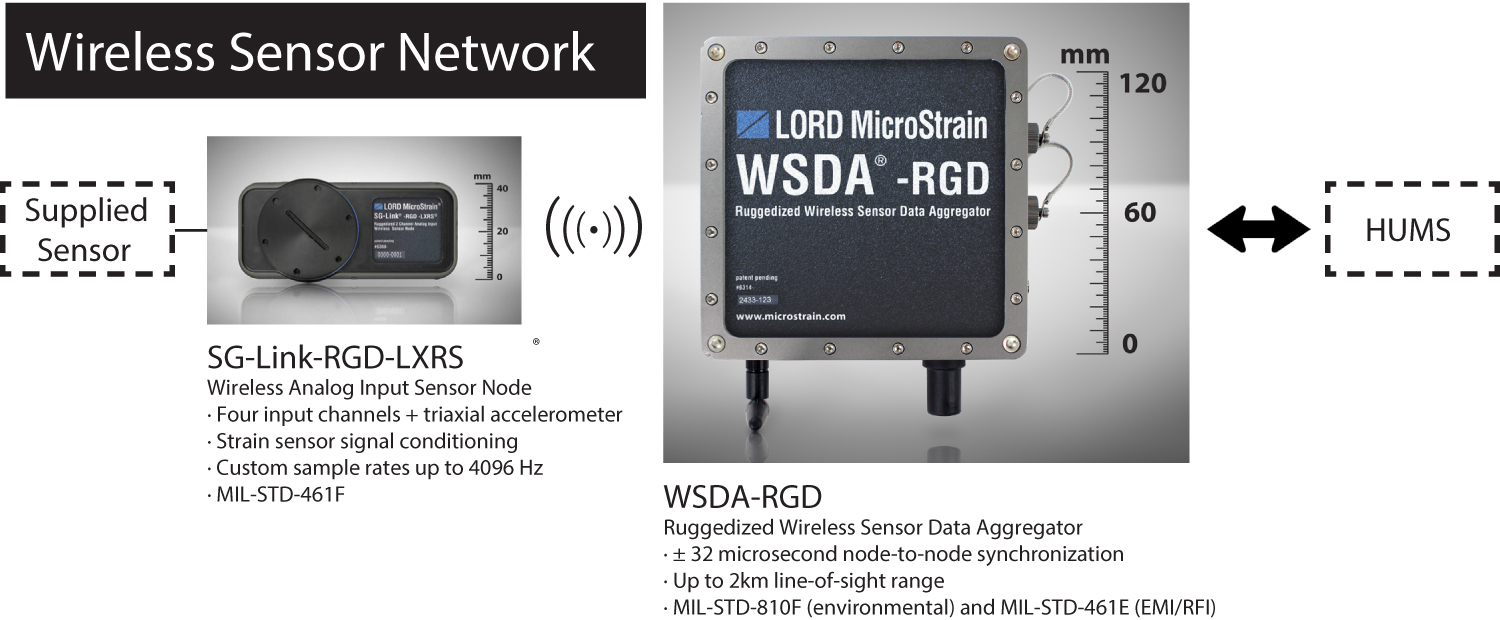 LORD MicroStrain LXRS® Protocol   
LORD MicroStrain's proprietary Lossless Extended Range Synchronized (LXRS®) wireless protocol is a 2.4GHz, IEEE 802.15.4-compliant communication architecture combining microsecond time-synchronization with a scalable star network. User-controllable sampling rates are automatically coordinated over thousands of wireless sensor nodes, all with 100% reliable data throughput under most operating conditions.
REAL-WORLD APPLICATION:
Integrating a LORD MicroStrain Wireless Sensor Network with a Goodrich IVHMU
Because the interior of a rotorcraft airframe is considered a harsh RF environment, it is not hospitable for certain communication models required for HUMS monitoring. LORD MicroStrain's proprietary LXRS technology, however, is able to overcome this challenge and successfully record, transmit, and store the relevant data.
When integrated with a Goodrich IVHMU (with a 10/100 Base-T Ethernet interface and operating on a static IP network via TCP or UDP packets), the LORD MicroStrain Wireless Sensor Network (WSN) collected data with a success rate of more than 99.99%. Of the almost two million packets of data sent during the verification test, only ten were dropped.
In addition the WSN, acting as a network coordinator and data conduit, queried the Goodrich IVHMU for weight-on-wheels status. When the IVHMU indicated airborne status, the WSN and IVHMU synchronized, beginning a sampling session; when the IVHMU indicated touchdown, the WSN ceased sampling and entered sleep mode. This significantly increases battery life for the WSN, saving power which would otherwise be consumed while collecting unnecessary data.
Further, the WSN is able to successfully synchronize multiple nodes to within ±32 microseconds, giving the user a robust and comprehensive WSN for health and usage monitoring.
Note: LORD MicroStrain developed software specifically to integrate its WSN with the Goodrich IMHVU. Software solutions are available for other manufacturers' HUMS. Please contact our Sales and Support Staff for more information.
The LORD MicroStrain White Paper on this topic is available for purchase at AHS International:
https://vtol.org/store/product/integration-of-a-wireless-sensor-data-agg...
Copyright © 2014 LORD Corporation
3DM®; 3DM-DH®; 3DM-DH3™; 3DM-GX1®; 3DM-GX2®; 3DM-GX3® ; 3DM-GX4-15™; 3DM-GX4-25™; 3DM-GX4-45™; 3DM-GX4™; 3DM-RQ1™; AIFP®; Ask Us How™; Bolt-Link®; DEMOD-DC®; DVRT®; DVRT-Link™; EH-Link®; EmbedSense®; ENV-Link™; FAS-A®; G-Link®; G-Link2™; HS-Link®; IEPE-Link™; Inertia-Link®; Little Sensors, Big Ideas®; Live Connect™; LXRS®; MathEngine®; MicroStrain®; MVEH™; MXRS®; Node Commander®; PVEH™; RHT-Link®; SensorCloud™; SG-Link®; Shock-Link™; Strain Wizard®; TC-Link®; Torque-Link™; V-Link®; Watt-Link™; Wireless Simplicity, Hardwired Reliability™; and WSDA® are trademarks of LORD Corporation. Specifications are subject to change without notice.
8400-xxxx
LORD Corporation | MicroStrain® Sensing Systems
459 Hurricane Lane, Suite 102
Williston, VT 05495 USA
www.microstrain.com
ph: 800-449-3878 | fax: 802-863-4093
sensing_sales@LORD.com | sensing_support@LORD.com
Wireless Simplicity, Hardwired Reliability.®