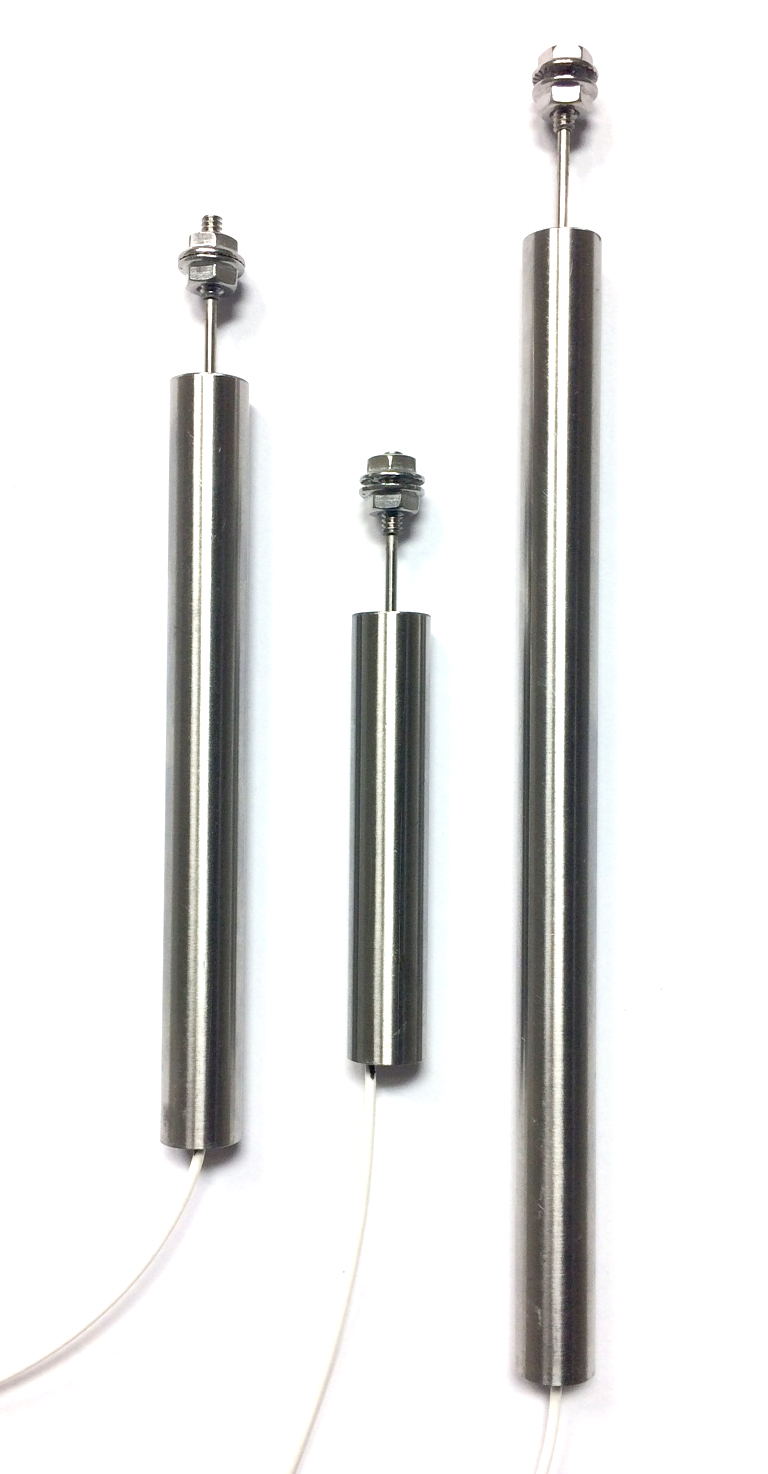 (Cary, N.C. – March 31, 2017) – LORD Sensing – a global leader in developing embedded sensing systems for aerospace and industrial markets – has launched its highly accurate, robust LS-LVDT Series Compact Linear Displacement Sensor designed for use with LORD Sensing DEMOD signal conditioners.
Ideal for linear control and precision measurement applications, the compact LS-LVDT is made from a stainless steel and high-temperature polymer construction. The LS-LVDT provides a fast response, rugged packaging and is designed to withstand harsh environments. Sensors are available in 50 mm, 100 mm and 150 mm stroke lengths.  The compact sensor design provides extremely high stroke-to-length ratios, with the sensor body only 25 mm longer than the stroke length.
Key applications include process control for production line monitoring, miniature position control elements, measuring strain and deflection in materials and structures, and dimensional gauging for quality control. LS-LVDT use examples include automation control on robots; feedback on linear slides and actuators; and flap, valve, and joint position.
Configuration options can provide 0.04% full-scale resolution, linear analog output, flat dynamic response to kHz levels, and very low-temperature coefficients. These linear variable differential transformer sensors are environmentally sealed and fully submersible with a proven operating temperature range from -55°C to 150°C.
"This is a wider temperature range than typical, industry-standard LVDT displacement sensors," says Harrison Sprague, Lead Engineer, Displacement, LORD Corporation. "The compact design is highly robust and maintains the high level of accuracy that customers expect from LORD Sensing displacement sensors."
The LS-LVDT has a strong, lightweight and corrosion-resistant free-sliding transducer core, with a 6-32 threaded tip for core attachment that accommodates ¼-inch wall thickness. The sensing head is engineered for performance in a variety of industrial conditions.
"The cores are precision ground to ensure a close-sliding fit within the open bore of the stainless steel-lined LS-LVDT body," Sprague says. "This precision allows the sensor to achieve extremely high repeatability. It has a near frictionless design for robust use over millions of cycles, and high-dynamic range for difficult measurements."
LS-LVDT sensors can be combined with wireless products from LORD Sensing such as the V-Link-200 to start large, time-synchronized networks of sensors. They are compatible with legacy LXRS products (FW 7.0+).
"Users can connect to a remote WSDA-1500 anywhere in the world via TCP/IP, log in to SensorCloud to analyze cloud data with local data, or export data to a CSV file to use it elsewhere," Sprague says. "This allows users to visualize massive amounts of data in fully customizable dashboards."
The following customizations can be made to the LS-LVDT:
Threaded tips (different pitches/threads/lengths).
Cable length to fit customer's requirement.
Threaded outer shell.
Through-bore version (core can slide entirely through sensor).
PVC jacketed cable (compromises temperature range.
Longer stroke lengths also may become available, depending on customer demand.
 
LS-LVDT key features/highlights include:
Stainless steel and high-temperature polymer construction.
Operating temperature range -55°C to 150°C (standard is 175°C for DVRTs).
Free-sliding stainless core.
6-32 threaded tip for core attachment.
Accommodates ¼-inch wall thickness.
18-inch shielded Teflon cable.
Standard 0.5-inch outer diameter casing.
Works with all standard LORD DEMOD signal conditioners.
50-, 100- and 150-mm stroke lengths available.
Extremely compact packaging with sensor body only 25 mm longer than the stroke length.
Unguided armature.
Extremely high accuracy (±1% to ±0.1% accuracy).
Combine the LS-LVDT with wireless products from LORD Sensing to start large, time-synchronized networks of sensors.
For more information, please contact LORD at +1 877 ASK LORD (275 5673), via email at Collin.Parker@LORD.com or visit http://www.microstrain.com/displacement.
About LORD Corporation
LORD Corporation is a diversified technology and manufacturing company developing highly reliable adhesives, coatings, motion management devices, and sensing technologies that significantly reduce risk and improve product performance. For more than 90 years, LORD has worked in collaboration with our customers to provide innovative oil and gas, aerospace, defense, automotive and industrial solutions. With world headquarters in Cary, N.C., LORD has approximately 3,100 employees in 26 countries and operates 19 manufacturing facilities and nine R&D centers worldwide. LORD actively promotes STEM education and many other community engagement initiatives. For more information, visit http://www.lord.com.