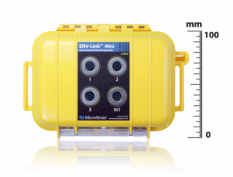 The SG-Link® -RGD -LXRS® ia a versatile, ruggedized four-channel analog sensor node with integrated triaxial accelerometer.
Product Highlights
Four analog input channels, integrated three-axis accelerometer, and an internal temperature sensor
Integrated strain sensor signal conditioning, embedded processing, and environmentally hardened form factor ideal for permanently mounting over strain gauges
Supports conventional bonded foil, piezoelectric-resistive, Wheatstone bridge, and modular Columbia Research
Labs-type strain gauges
Integrated triaxial accelerometer with MEMS technology and +/- 16 g range
User-programmable sample rates up to 4096 Hz
LORD MicroStrain® LXRS® Wireless Sensor Networks enable simultaneous, high- speed sensing and data aggregation from scalable sensor networks. Our wireless sensing systems are ideal for sensor monitoring, data acquisition, performance analysis, and sensing response applications.
The gateways are the heart of the LORD MicroStrain wireless sensing system. They coordinate and maintain wireless transmissions across a network of distributed wireless sensor nodes . The LORD MicroStrain LXRS wireless communication protocol between LXRS nodes and gateways enable high- speed sampling, ±32 microseconds node- to- node synchronization, transmission range up to 2 kilometers, and lossless data throughput under most operating conditions.
Users can easily program nodes for data logging, continuous, and periodic burst sampling with the Node Commander ® software. The web- based SensorCloud™ interface optimizes data aggregation, analysis, presentation, and alerts for gigabytes of sensor data from remote networks.