Product no longer stocked – limited availability
Contact for pricing and lead time--a minimum order quantity may apply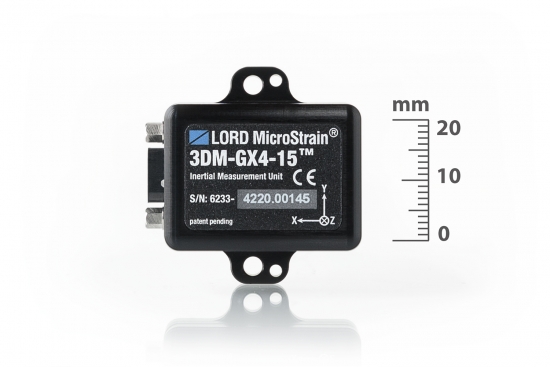 The 3DM-GX3® -15 is a high-performance, miniature Inertial Measurement Unit and Vertical Gyro, utilizing MEMS sensor technology. It combines a triaxial accelerometer, triaxial gyro, temperature sensors, and an on-board processor running a sophisticated sensor fusion algorithm to provide static and dynamic orientation, and inertial measurements.
Datasheet
Manual
Best in Class
    precise inertial measurements
    high-speed sample rate & flexible data outputs
    high performance under vibration and high g
Easiest to Use
smallest, lightest industrial IMU available
simple integration supported by SDK and comprehensive API
Cost Effective
    reduced cost and rapid time to market for customer's applications
    aggressive volume discount schedule
IMU Specifications
Attitude and Heading

Attitude heading range

360° about all 3 axes

Accelerometer range

±5 g standard

Gyroscope range

±300°/sec standard

Static accuracy

±0.5° pitch and roll typical for static test conditions

Dynamic accuracy

±2.0° pitch and roll for dynamic (cyclic) test conditions and for arbitrary angles

Long term drift

pitch and roll drift eliminated by complementary filter architecture

Repeatability

0.2°

Resolution

<0.1°

Data output rate

up to 1000 Hz

Filtering

sensors sampled at 30 kHz, digitally filtered (user adjustable ) and scaled into physical units; coning and sculling integrals computed at 1 kHz

Output modes

acceleration, angular rate, deltaTheta, deltaVelocity, Euler angles, quaternion, rotation matrix

General

A/D resolution

16 bits SAR oversampled to 17 bits

Interface options

USB 2.0 or RS232

Baud rate

115,200 bps to 921,600 bps

Power supply voltage

+3.2 to +16 volts DC

Power consumption

80 mA @ 5 volts with USB

Connector

micro-DB9

Operating temperature

-40° C to +70° C

Dimensions

44 mm x 24 mm x 11 mm - excluding mounting tabs, width across tabs 37 mm

Weight

18 grams

ROHS

compliant

Shock limit

500 g

Software utility

CD in starter kit (XP/Vista/Win7/Win8 compatible)

Software development kit (SDK)

complete data communications protocol and sample code
Sensor Specifications
 

Accels

Gyros

Measurement range

±5 g

±300°/sec

Non-linearity

±0.1 % fs

±0.03 % fs

In-run bias stability

±0.04 mg

18°/hr

Initial bias error

±0.002 g

±0.25°/sec

Scale factor stability

±0.05 %

±0.05 %

Noise density

80 µg/√Hz

0.03°/sec/√Hz

Alignment error

±0.05°

±0.05°

User adjustable bandwidth

225 Hz max

440 Hz max

Sampling rate

30 kHz

30 kHz

Options

Accelerometer range

±1.7 g, ±16 g, ±50 g

Gyroscope range

±50°/sec, ±600°/sec, ±1200°/sec
General Documentation
Technical Notes
Mechanical Prints
Firmware Upgrade
Software Download
Software Development Kit
Please use the form below to contact us or call 802 862 6629.