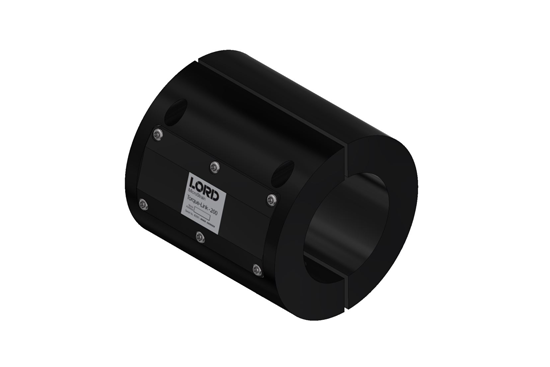 Introduction
Transform standard driveshafts into wireless torque transducers by application of one strain bridge. The node supports high resolution, low noise data collection from 1 differential input channel at a sample rate up to 1 kHz. An integrated hall effect sensor enables reporting of RPM and total pulses allowing for the derivation of real-time power in torque applications.
Product Highlights
Two to six inch diameter shaft (standard), more sizes available on request
One differential input channel (standard) for full-bridge strain gauge integration (two channels optional)
Ideal for static and dynamic torque measurements with full temperature compensation and bending cancellation
Alternative gauge configurations enable axial and bending measurements
Rugged ABS housing designed for remote, long-term installation on cylindrical shafts
Application-specific designs available on request
Features & Benefits
High Performance
Lossless data throughput and synchronized node-to-node sampling of ±50 μS in LXRS+ and LXRS-enabled modes
Up to 1024 Hz sampling
Noise as low as 1 µV p-p
High resolution 24-bit data
Datalog up to 8 million data points
Ease of Use
Installs over existing strain elements and shafts with no mechanical modifications
Configurable housing geometry will accommodate any shaft size
Wireless data transmission allows installation on rotating components without a slip ring
Specifications
General

Sensor input channels

Differential analog, 1 channel (standard),

2 channels (optional) , 1 RPM/pulse

Integrated sensors

Internal temperature, 1 channel

Data storage capacity

16 M Bytes (up to 8,000,000 data points)

Analog Input Channels

Selectable measurement ranges

±19.5 mV to ±2.5 V

Single-ended input impedance

1 Mohm

Resolution

24-bit

Digital filter*

Configurable SINC4 low pass filter for reducing noise

Bridge excitation voltage

Configurable: 1.5 V or 2.5 V (100 mA)

Measurement gain and offset

1 to 128

Integrated Temperature Channel

Measurement range

-40 to 105° C

Accuracy

±0.25° C

Sampling

Sampling modes

Continuous, periodic burst, or event triggered

Sampling rates

Up to 1024 Hz

Sample rate stability

±5 ppm

Network capacity

Up to 127 nodes per RF channel depending on settings. See:

Synchronization between nodes

± 50 μsec

Operating Parameters

Wireless communication range

Line of sight: 1 km (ideal), 400 m (typical); Indoor/obstructions: 50 m (typical)

Radio frequency (RF) transceiver carrier

License-free 2.405 to 2.480 GHz with 16 channels

RF communication protocol

IEEE 802.15.4

Power source

High performance: 1.5 V Lithium AAA (L92) recommended; Lower performance: Alkaline AAA -decreased temperature range and battery life

Power consumption

Configuration dependent (see user manual)

Operating temperature

-40°C to +60°C

Angular acceleration limit

500g sustained, 1000g intermittent

Maximum RPM

Operating condition dependent (see user manual)

Physical Specifications

Dimensions

See Datasheet table

Environmental rating

IP 66, tested to DO-160 standards for temperature variation, humidity, and vibration

Enclosure material

ABS thermoplastic

Integration

Compatible gateways

All WSDA gateways

Software

SensorCloud™, SensorConnect™, Windows 7, 8 & 10 compatible

Software development kit (SDK)

Regulatory compliance

FCC (U.S.), IC (Canada), CE (European Union), ROHS
Product Taxonomy
Parameters
Applications
Condition-based monitoring
Health monitoring of rotating components, aircraft, structures, and vehicles
Static and dynamic torque measurements
Highlighted Docs
Summary
The Torque-Link-200 allows users to transform standard driveshafts into wireless torque transducers by application of one strain bridge.