Applications
Downloads
Tags
Parameters
Related Products
By
Posted

Friday, January 17, 2020 - 09:30
MicroStrain's wireless sensor network and cloud-based data management platform enables growers to remotely monitor environmental variables across multiple locations.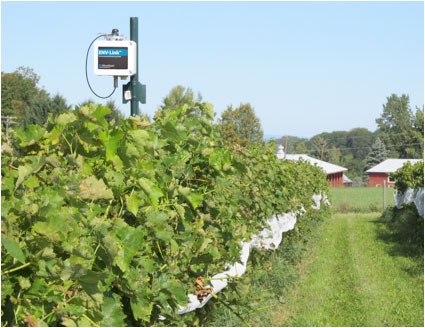 The cultivation and harvesting of wine grapes is highly influenced by localized environmental conditions. These conditions are variable over short distances, making their monitoring both difficult and time consuming. Practices such as irrigation and spraying depend on the cumulative exposure of plants to a variety of elements. Without access to accurate, reliable field data, farmers risk the health of their crop and the effectiveness of their resources and labor.

MicroStrain worked with Shelburne Vineyard, a northern Vermont winery, to implement a wireless sensor solution. The solution enabled web-based, real-time monitoring of vineyard conditions across multiple locations. As a result, vineyard employees can remotely view and track simultaneous events.

In this video, Ken Albert of Shelburne Vineyards discusses the challenges facing winemakers.
The deployed sensor network provided Shelburne Vineyard with means to create alerts that notify growers when significant environmental thresholds are met. Furthermore, the scalable network is capable of proactively monitoring all the vineyard's plant varieties
and providing the necessary platform to enable condition based cultivation and harvesting.
One unique wine that especially benefits from close monitoring is ice wine. Derived from winter hardy grapes, ice wine harvests are extremely sensitive to low temperature. The grapes are left on the vine late into the season to allow for longer development of their sugar. Harvest takes place soon after the ambient temperature drops to 17.6 degrees F (-8 degrees Celsius). Temperature differences of only a few degrees significantly affect the condition of harvested grapes. By using MicroStrain's wireless monitoring system, Shelburne Vineyard knows the precise time and location a condition threshold is triggered. The web-based data management and visualization platform, SensorCloud®, provides convenient access to real-time information as well as a useful tool for organizing historical information.

MicroStrain thanks Ken Albert of Shelburne Vineyard for sharing his application details and experience for this case study. This paper does not represent an endorsement of any particular product or application by Shelburne Vineyard.