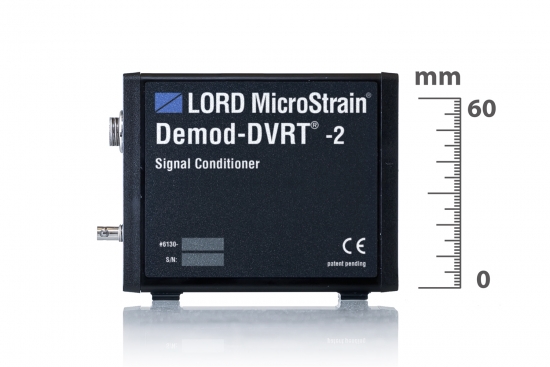 The DEMOD-DVRT2 is a high-performance, high-resolution, expandable DVRT signal conditioner designed for use with all LORD MicroStrain Displacement Variable Reluctance Transducer (DVRT's).
Product Highlights
Accurate, repeatable signal processing for all  contact-types
Modular form-factor for stand-alone single sensor use or use in a four-channel backplane with optional  DIN-rail mount
Filtered and buffered output provides clean, high-level signals to coaxial connections
Datasheet
Manual
High Performance
Precision synchronous demodulation
Differential amplifier raises AC voltages and provides optimum demodulator performance
Paired and calibrated with each DVRT sensor for high accuracy outputs
Line voltage transient filtering and constant current excitation source to the sensor bridge
Easy to Use
Factory-adjustable output filtering and calibration-model options to match application needs
Rapid warm-up time
Analog backplane available for connection optimization
Cost Effective
Complete position-sensing solution with no integration to other systems required
Volume discounts
General

Sensor Input channels

Single channel, inductive DVRT

Sensor Input channel

Demodulation

Synchronous, DC output

Sensor excitation

Alternating constant current, 156 kHz typical

Analog Output

Analog output voltage

0 to 10 V dc (standard), 0 to 5 V dc (optional)

Output gain

Adjustable from 14 to 10,000 (factory set during calibration)

Analog low pass filter

Two-pole, active Butterworth, -3 dB @ 800 Hz

(standard), factory adjustable 10 Hz to 20 kHz

Operating Parameters

Power source

12 V dc nominal ± 1 V dc (Universal voltage wall AC/DC converter provided)

Power consumption

30 mA

Power indicator

Green power on indicator

Operating temperature

-20 °C to +60 °C

Device warm-up time

5 minutes recommended

Physical Specifications

Dimensions

70 mm x 95 mm x 20 mm

Weight

113 grams

Enclosure material

Black anodized aluminum

Environmental rating

Indoor use

Mounting

Desktop with rubber feet (standard), analog backplane (optional)

Integration

Connectors

Center-positive DC barrel socket (power supply); 4 pin receptacle (sensor input); HDBNC (analog output); backplane connector

Sensor cable

4-pin receptacle to 4-pin mini, calibrated with sensor and signal conditioner

Compatible sensors

LORD MicroStrain DVRT sensors

Analog backplane

Four channel bus (see backplane specifications)

Regulatory compliance

CE, ROHS
General Documentation
Technical Notes
There are no downloads for this product.
Please use the form below to contact us or call 802 862 6629.